A lot of people ask the question "How many months of the year do you fish?"  My answer is always 12 months out of the year.  The next question is always "what is the best month to fish?"  That depends on what you are looking for.  The reality is they can all be great.  A valuable piece of advice if you are searching for fishing charters is be clear with the fishing guide about what you are looking for when you call to discuss your trip.  Also, ask questions, if you are not sure whats right for you he can help with that.  You may think you want to target trophy speckled trout, however, if you are bringing three children with you then a spring time sheephead bite may be better suited to your needs.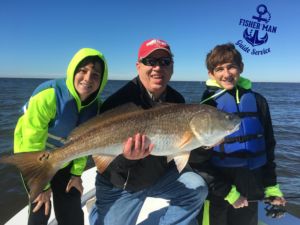 If I could only fish 4 months out of the year it would likely be May- June and October-November.  Those four months can be incredible but the other eight months of the year provide great fishing trips as well.  Living in south Mississippi or Louisiana provides ample opportunity  to enjoy what God has given us.  We are now headed into our winter bite down here.  During these months Fisher-Man Guide Service runs the majority of our trips out of Hopedale, LA from the comfort of the Dogwood Lodge.  We have some cold days from December to February but we also have some incredibly comfortable days that provide clean water, crisp clear skies, and enjoyable fishing without sweat.  The target species during these months are slot reds and a lot of speckled trout. March is spring break and things seem to heat up a little.  Our near shore reefs are loaded with sheephead.  This fish typically provides non-stop action and great fights.  If the goal is to catch a lot of fish or get a young person interested in fishing this is a great month to consider.  Moving further into the year,  tons of options become available.   April and May provide warming water temps and typically introduce the start of brown shrimp in the marsh.  This is a magical time of the year for speckled trout.  Over the past four years, my first tripletail of the year has been landed in the second week of May.  Spring and summer months are also as some of my favorites for wade fishing around the islands.  This is a great time to plan one of our multi-day trips to the Chandeleur Island Chain.  We provide fully guided wading or boat fishing trips from the comfort of the Southern Cross, a 56′ sport fishing vessel that we use as a mothership.   June through August will continue to provide a great speckled trout and tripletail bite.  The summer months also offer a great opportunity for schools of bull reds and jack crevalle.  The jack crevalle is probably one of the most under rated sport fish that the upper Gulf of Mexico has to offer. Both of these species are guaranteed to make the drag scream and leave your arms aching especially when the angler is using light tackle.  Lastly, if you want to get out after dark and see things from a different perspective we typically run out night-time floundering trips from May-October.  These trips depart just before dark and will have you wading the shallow flats of our barrier islands in search of one of the tastiest fish in the gulf.  The sights that are seen on floundering trips are unlike anything that can be done during daylight hours.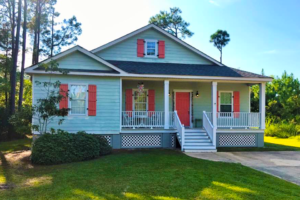 To plan your next fishing adventure give us a call.  In addition to fishing we have lodging options available at the Silver Slipper Casino or one of the three cottages that we own in the city of Pass Christian, MS. Hook Gulf Coast Cuisine and Shaggy's Bar and Grill will cook your days catch for you and provide a dining experience you won't soon forget.  The Oaks Golf Course has partnered with us to provide the perfect compliment to a fishing vacation. We hope to see you soon!